Children are the future of the country and the hope of the nation. It is always the goal of all the countries in the world to create a good family, social and learning environment for all children so that they may grow healthily, happily and happily. Omega Source Children's Wear Products Fifty years ago, in an assembly held in Moscow in November 1949, the International Federation of Democratic Women decided to ensure the survival, health care and education of children around the world. Day for the International Children's Day. On December 23, 1949, the Chinese government also set June 1 as Children's Day. As a result, children around the world have their own festival - "61" International Children's Day. Beyond the time tunnel, to regain the old innocence, memories of the beauty of childhood, perhaps a cartoon ball-point pen, perhaps a drawing board, perhaps a precious photo ... are so memorable. Children are always cute, lovely from their innocent, naughty. The pure innocence revealed by the eyes of the children often makes people feel heart-throbbing. Their gestures, expressions, and demeanor all affect the softest part of the heart. Children's words and deeds often make people Laugh heartily. Omega boutique children's wear take this opportunity to wish all children in the world, happy holidays!

Genuine Leather Baby Moccasins

Genuine leather Baby Moccasins are made by 100% quality genuine cow leather, suede leather, soft and comfortable, in variety colors and popular styles,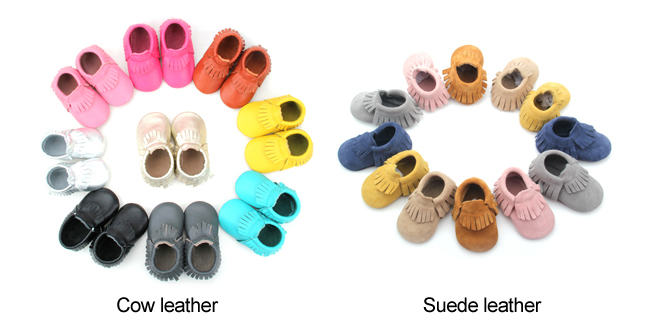 Genuine Leather Baby Moccasins Sizes

Mostly sizes we make for baby moccasins shoes are in 0-6month, 6-12month, 12-18month, 18-24month, and we also use hard rubber sole for Kids Moccasins in larger sizes beyond 2 years old,













Genuine Leather Baby Moccasins Styles

Baby moccasins always come tassels(fringes) styles, bow styles, also printing your own customized patterns on baby moccasins are also available.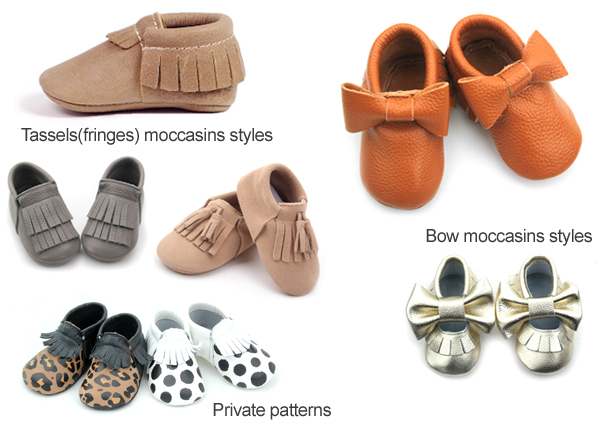 Genuine Leather Baby Moccasins Logo

Moreover, your OEM orders for baby moccasins are welcomed, our factory also provide logo printing & packing customizing service.













Genuine Leather Baby Moccasins Pass Customs Test

All leather we used for baby moccasins follow the requirement of US CPSIA policy, pass CUSTOMS TEST, Pb element less than 90ppm, safe and unharmful, eco-friendly.










Genuine Leather Baby Moccasins Bring Our Wishes

We trust that the baby moccasins we produce are as better as Freshly Picked, and we promise trying our best to help babies grow up well.

Baby Moccasins

Genuine Leather Baby Moccasins, Moccasins Shoes Baby, Cute Fancy Baby Moccasins, Wholesale Baby Moccasins, Freshly Picked Moccasins

Shenzhen Baby Happy Industrial Co.,LTD , https://www.babyshoes.cc