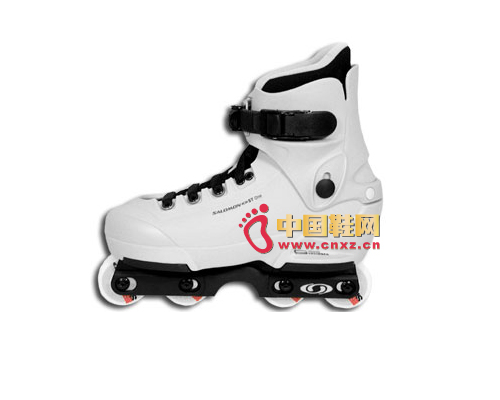 [Ben Wang - shoes and live in the United States] Pat has more than 20 million people choose inline skates or recreational sports as a means of transport, near the Eiffel Tower in Paris, France, but also hold regular people roller-skating parade on Fridays, At the event, police officers wearing skates opened the way for the participants, proving that the sport was well received by the public.

Recreational inline skates (Recreationinlineskate):

Generally referred to as casual shoes, it can also be called multi-purpose shoes. Any form of play will have a qualified performance. Most of the skates sold in sporting goods stores are such shoes. It doesn't have special positioning. It is more suitable to do some basic movements. It can also be used for playing hockey, playing fancy or speed. Although it is not the most suitable shoe, because it is generally cheaper, it is more suitable for beginners. Wait until the level increases, and then buy other shoes. Casual shoes are generally divided into Hardboot and Softboot.

Hardbootskate:

Most of the hard shoes use the tape buckle type, which can effectively lock the feet and is more convenient than the traditional lace-type roller skates. Most of the new shoes' tape buckles have been designed with a memory-type buckle. They can be adapted to suit everyone's preferences, and can be worn back to suit their tightness. Gradually forming a suitable shape of foot depending on the curvature of the foot, so that the foot feel more comfortable, and the inner sleeve can be removed and cleaned to avoid odor. Among the many shoes, the roller speed of the roller skates is the most moderate, which prevents beginners from making accidents because the speed is too fast to control. Therefore, beginners who purchase single-row skates for the first time are most suitable to use hard shoes as entry shoes.

Softbootskate:

In recent years, the body of single-row skates has gradually become more flexible. Soft-shoe shoes have more choices and styles, and they are designed according to the usual sneakers and climbing shoes that are easily worn.

The soft-shoe uses a traditional strap and a buckle. The strap allows the tongue to be closer to the player's foot. The wrapping is better. Even if used as a long-distance speed training, it will not cause foot discomfort. Soft-shoe shoes are generally larger in diameter than hard-shoe shoes, and most of them use high-precision speed bearings and aluminum horizontal bars, which can effectively improve the skater's skating skills.

Single-row roller skating is a healthy sport that combines leisure, health, and fun. It allows every cell of the body to become active. According to a report presented by the American Sports Medicine Doctor Karl Foster, the 30-minute slow single-row skates can consume 285 calories and can quickly consume 450 calories. For people who want to exercise their heart and lungs and leg muscles, roller skating is an effective choice because it is a low-impact exercise that not only runs the knees much lighter than running, but also satisfies the effect of heart-lung function. Therefore, it is an ideal choice for people who want to pursue health. According to an experimental test report from the Massachusetts Institute of Technology, the single-row skates are an excellent aerobic exercise. If you can continue for more than 30 minutes, you can not only get rid of excess body fat, but also to achieve the purpose of fitness. The benefit of aerobic exercise is that it strengthens the function of the cardiovascular system and makes you live a healthier life. Another advantage is that you can lose weight. Many calories burn less calories than single-line rollers. Therefore, if you want to lose weight, you should naturally invest in a single-row skating world.

· The old shoes at home are like this to transform big spikes
· Old shoes don't stupidly throw away so that the shoes "open"
Put a physical insurance on your shoes
· How to clean the matte surface of the shoes?
· Breathable, antibacterial, deodorizing socks with it to avoid off shoes
·Sports shoes's little tail actually has these 3 functions you certainly don't
·High-heeled shoes audio sound? 4 coups to ease you learn a few
·How to choose shoes during pregnancy? Flat shoes are not safe
What should I do if my shoes become moldy
·Wearing these shoes in the summer will hurt you

Custom printed Coreflute logo
The Corflute signage is ideal for any short or medium term, indoor or outdoor signage needs.
Although it is not recommended to use the corflute logo for a long time, it still offers many qualities.
Custom printed Coreflute logo can be Die Cut any size to meet the needs of different customers
The Corflute logo offers an affordable alternative to the advantages of a strong, durable, lightweight, waterproof product. Whenever you change your event easily
need. Create such an easy-to-use ad that you can take with you for everyone to watch.
The plastic corrugated logo is a proven solution for versatile short-term advertising. change
Get detailed information at the lowest cost and still maintain the quality image of your brand.

Features and benefits
• Custom printed graphics for exclusive brands.
• High resolution full color imaging on all Corflute logos.
• Lightweight, 100% portable.
•flexible. Suitable for indoor trade shows or outdoor sports.
• Cost effective. The Corflute logo is one of the most cost-effective signs on the market.
• Any shape you want. Corflute folds or bends into any shape you want.

application
• Perfect for indoor and outdoor use and widely used in the real estate industry
Trading people in the construction industry.
• Industries include: real estate 'for sale' signs, political events, fair signs, exhibitions or events
Signage, architectural sign or trade show sign.

technical details
•thickness
Coreflute is available in thicknesses up to 1200mm x 2400mm and is available in thicknesses of 3mm, 5mm and 6mm.
8mm.3mm is only suitable for smaller signs and is usually only used indoors.
5mm is the most commonly used thickness, used inside and outside, rigid enough
It is useful even at full paper size. The 6mm and 8mm versions are often used less frequently.
Additional rigidity or robustness is necessary.
• Also known as: cor-flute, pastic, corrugated signage, printed trade mark, architectural sign.
• Produce full color corflute logos using the latest digital solvent printing technology.
• Use the computer to cut vinyl lettering to create a simple corflute logo.

Corflute Sign Board,Sign Board Letters,Sign Boards For Sale ,Sign Board For Business

Anhui LiSheng prinbanner co.,Ltd , https://www.anhuiprintbanner.com